The 2019 Jeonju International Sori Festival took place October 2-6 in Jeonju, a city located in southwestern South Korea. The festival is held in a exquisitely-designed, comfortable performing arts complex called Sori Arts Center of Jeoballuk-do that includes various indoor theaters and several outdoor stages.
The 2019 edition of the Jeonju International Sori Festival focused on wind instruments. Due to an approaching typhoon (that thankfully weakened), the outdoor events on October 2nd were cancelled. The official program started October 2nd with a grand gala at 7:30 p.m. at the elegant and restful Moak Hall with Wish on the Winds, featuring master Instrumentalists and singers from around the globe.
The show started with Mazurka on the Wind, a lively performance by the great Polish contemporary folk group Janusz Prusinowski Kompania, joined by wind instrumentalist Manu Sabate from Barcelona, Spain. Next came Sujeon Variations, another highlight, with the United Youth Wind orchestra of Jeollabuk-go. This was a magnificent group of 200 young school students playing a variation of Sujecheon (Korean court music) on wind and percussion instruments.
Sacred music was represented by the gorgeous vocals of Georgia's Iberi Choir and the Buddhist ritual music of Jeonbuk Yeongsan Jakbeop Preservation Society, joined by organist Miyeon.
The Ethnic Innovation segment showcased two talented Taiwanese artists, suona master Tseng chien-yun and Chung Pei-yun. They were followed by The Songs of the Forest with bamboo flute virtuoso Won Janghyun and his students.
The opening show also included spectacular dance, represented by three diverse styles: flamenco from Spain performed by Spain-based Mexican dancer Karen Lugo, Korean traditional artist Cho Sehoon and belly-dancing by Dominika Suchecka.
The show ended with a wind instrument extravaganza conducted by musician and composer Park Jechun, Commissioner of the Jeonju International Sori Festival. The show highlighted various instrumentalists and ended in a freeform improvisation. The lineup included Kang Taehwan on saxophone; Won Janghyeon on bamboo flute; piri master Choi Gyeongman; Tibetan flutist Nawang Kechog; Janusz Pruzinowski; Manu Sabaté; and Anders Harberg.
October 3
On Thursday, October 3rd, I got to see a pansori performance for the first time. Pansori is a captivating traditional Korean art form that brings together poetry, storytelling and music. The format includes one singer/narrator (male or female) and a drummer that keeps a steady beat and engages with the singer with encouragement calls.
Pansori includes only 5 stories and fans known them well. I attended the Sugungga performance, featuring two renowned masters. As you can imagine, now knowing Korean is a barrier to understanding the nuances of the story. However, the festival provided a guidebook in Korean and English that helped follow the story. Additionally, this performance showed the texts in Korean and English projected on several walls.
The Sarungga story is very fun to follow. This performance included two masters. Lee Nancho and Lim Hyeonbin.
Later in the day, the Jeokbyeokga pansori was performed by Song Sunseop and Lee Jaram. The other three pansoris took place October 5th and 6th, featuring JoTongdal, Yu Taepyeongyang, Kim Yeongja, Choi Hyeonju, Kim Myeongsin and Jeong Sanghee.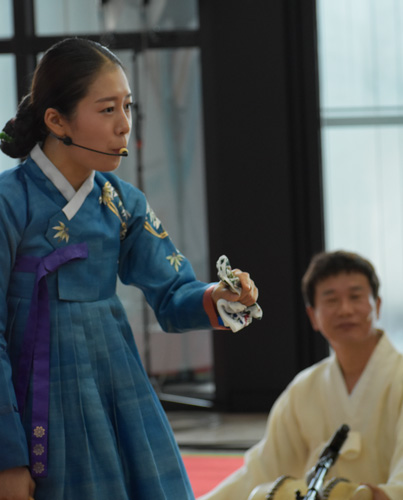 The pansori tradition is carried forward by a new generation of performers. Five artists appeared in the Young Pansori Five Batangs set: Lee Sung-hyun, Kim Yulhee, Jeong Yunhyeong, Choi Jandi and Gwon Songhee.
There is a lot to see during the afternoon and evening. Some of the highlights on October 3, in addition to pansori, included a workshop/concert by the magnificent Georgian ensemble Iberi Choir; and Korean fusion group Tannemotion, winners of the 2013 KB Sori Award.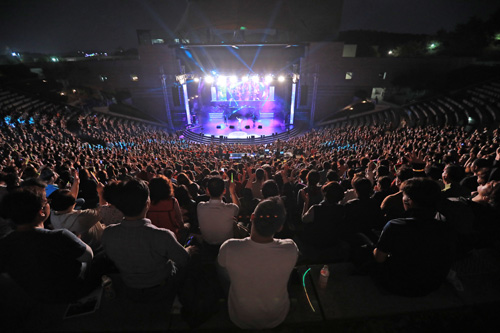 The most popular event that night by far in terms of audience was the Starlight K-pop ticketed show at the Open Air Theater. The performance included artists loved by all generations, including Korean rock stars BooHwal and pop singers Jeong Hunhee, Choi Seongsu, Hong Gyeongmin and Park Migyeong.
Later came an entertaining workshop by the Polish group Janusz Prusinowski Kompania followed by a concert by Polish act Masala Soundsystem, who delivered a mix of global sounds, electronics and ragga/rap.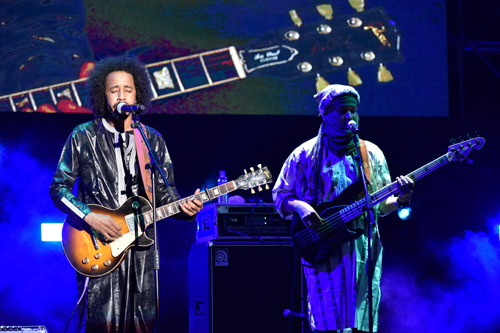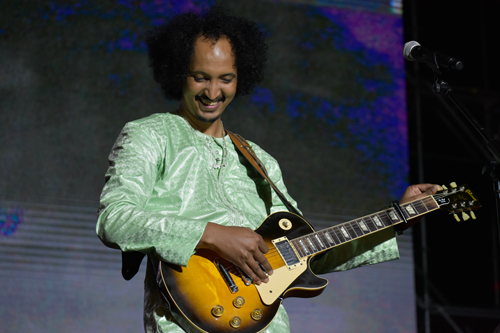 One of the best evening concerts was the performance by Tuareg group Tamikrest, an enthralling southern Algeria-based desert blues band formed by Malian musicians and French band members
The final concert on October 3rd was by Tres Bonbon, a Korean Afropop band that fuses Asian melodies and African rhythms. The group includes Korean musicians Giwan Seong; Doyeon Kim; Haneul Kim; and Yunhee Choi; along with Amidou Balani Diabate from Burkina Faso.
October 4
October 4th started with several shows for children, included traditional Korean puppetry. There were also workshops by Swedish wind instrument virtuoso Anders Hagberg; Ensemble Selene, a band featuring members from Korea and Argentina; and various percussion workshops.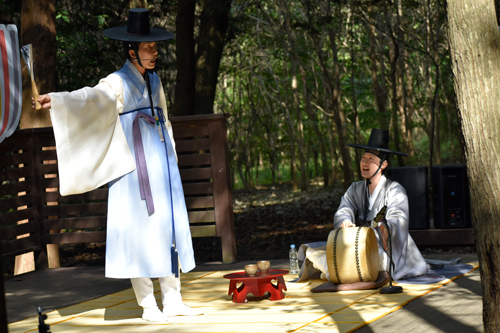 In the afternoon there were more percussion workshops and the continuation of the Young Pansori Five Batangs series. This time the setting was the relaxed Cypress Forest stage in the woods. The audience enjoyed the show sitting on benches, lawn chairs and resting on hammocks. Young master Jeong Yunhyeong performed the Jeokbyeokga pansori.
In the late afternoon, there was a spectacular show of nongak, Korean rural folk music performed by the drummers, percussionists and acrobatic dancers of Jeonjeup Nongak. The integrated ensemble includes men and women playing various types of drums and gongs led by a loud horn.
Ogando, another winner of an earlier edition of the Sori Frontier contest, performed at 6:00 p.m. It is an all-female Korean fusion group.
An evening highlight was the first episode of the Sacred Music Series at Yeonji Hall. The concert featured the marvelous Georgian ensemble Iberi Choir and the Korean Jeonbuk Yeongsan Jakbeop Preservation Society. The Iberi Choir delivered a beautiful set of songs from Georgia's ancient Christian tradition along with ballads, legendary tales and lullabies. The Jeonbuk Yeongsan Jakbeop Preservation Society performed a charismatic traditional Buddhist ceremony to guide the souls of the departed to heaven.
Next came the Asia Sori Project 2019. It is an international artist residency program in Jeonju that brings together Asian musicians. The artists in 2019 included Sosorbaram Enkhtur (Mongolia) on morin khuur and khoomei; Enkhjin Oyuntsetseg (Mongolia) on bishguur; Duy Nguyen Quang (Vietnam) on dan nhi; Tho Nguyen (Vietnam) on dan tam thap luc; Vishwa Bharath (India) on urumi and parai; Zulfikar Rizki Ananda (Indonesia) on talempong and katindik; Eunyoung Jin on pansori(Korea); Jun-Young Noh (Korea) on percussion; Jihoon Kwon (Korea) on percussion. Jae-Hyo Chang: Music Director. Miyeon: Composer.
The show Song of Masters 'Ways of Winds' took place at 8:00 pm in Moak Hall. The program included Kang Taehwan on saxophone; Kang Sungwon on songs; Anders Hagberg on flute; Lee Changseon on large bamboo flute; Nawang Khechog on Tibetan flute; Yeo Mido on improvised dance; and Tseng Chien-yun on suona, saenghwang, zither.
Next came another performance by Janusz Prusinowski Kompania accompanied by Manu Sabaté.
The last show featured Akdan Gwangchil, a group that performs a modernized version of the music of Hwanghae-do (the western provinces of North Korea) combined with electronics.
October 5
The program on October 5th started with Janusz Prusinowski Kompania's workshop in the Cypress Forest followed by a children's theater event.
In the afternoon, French brass band Imperial Kikiristan entertained the public with a fun mix of Balkan and popular classics and humorous sketches targeting the audience, especially children.
The pansori series continued with Choi Jandi's Young Pansori Five Batangs Hyun Joo.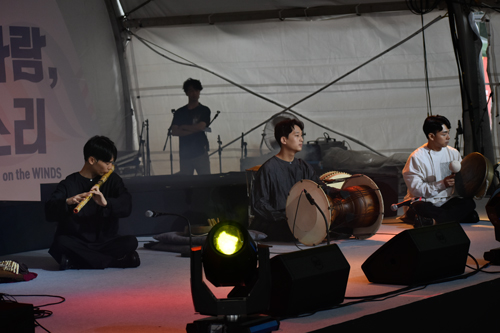 The Sori Frontier contest took place at 3:00 p.m. This contest showcased three innovative young Korean acts that fuse Korean music and other elements. Read the news story about the contest here.
The excellent Sacred Music II series presented a set of western classical music works along with new works by Korean artists performed by renowned cellist Sung-won Yang & TIMF Ensemble. The second half introduced the Araetnyeok Suryukjae Preservation Society with a Buddhist ceremony from the Youngnam region that comforts the dead souls remaining on the land and in the water.
The Jeonbuk Nongak showcased the dazzling farmer's folk music of Gochang Nongak.
Sanjo Night featured two wind instrument maestros, Choi Gyeongman on flute and Won Janghyeon on large bamboo flute at Moak Hall. They were joined by Yu Jisuk and Jang Munhee on vocals and Kim Gyuhyeong on drum.
The highly polished Modern Maori Quartet crooners presented a set of Maori classics. The group includes James Tito, Matariki Whatarau, Maaka Pohatu and Francis Kora.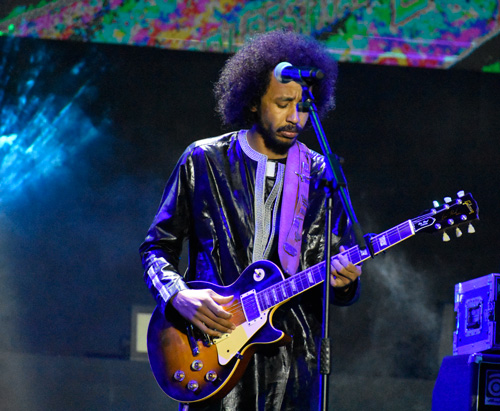 The enthralling Tuareg sounds of Tamikrest returned for an additional live performance in the evening.
Day 6
Sunday events started at 11:00 a.m. with a series of workshops by Jin Yun Kyong. Maori Quartet along with activities for children.
Brass band Imperial Kikiristan amused the outdoor audience one more and was followed by two pansori performances: Young Pansori Five Batangs with Gwon Songhee at the Cypress Forest and Pansori Five Batangs with Kim Myeongsin and Jeong Sanghee at Moak Hall.
Iri Nongak provided a dynamic show that included music and choreography.
Korean fusion band The Tune, winner of the 2014 Sori Award, delivered a great performance with a mix of traditional Korean sounds and musical instruments such as haegeum and drums combined with keyboards and vocals.
Next came Janusz Prusinowski Kompania with another set of beautiful contemporary Polish folk music.
The festival ended with the animated closing show called Rock and Sinawi, bringing together hard rock and sinawi (traditional Korean music). The stage featured a mix of traditional Korean and rock musicians, conducted by festival commissioner Park Jechun. Park is also drummer and he joined in on a second drum set for a few minutes, delivering one of the most spectacular moments of the show.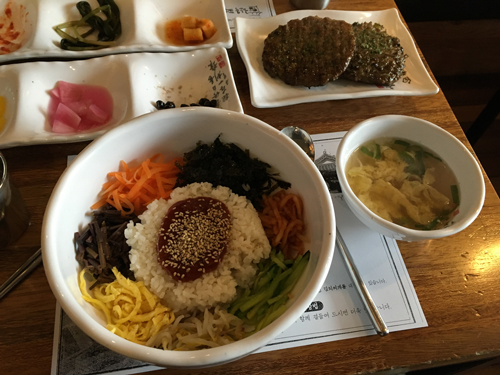 In terms of food, there are lots of options in the festival grounds and nearby, as well as in the hotels area, including the bibimbap (rice with sautéed and seasoned vegetable with chili sauce, available with or without meat), kimchi, bulgogi, various types of soups and noodles. The festival area also has several cafes where you can get some fod, coffee, tea and other beverages, and sweets.
While in Jeonju, a must see is Hanok Village. There, you will find traditional Korean buildings, gift stores, restaurants and temples.
You can get to Jeonju via high speed train or by bus, directly from the Seoul airport.
Special thanks to the staff at Jeonju Sori Festival, specially Joy, Han Ji-young, Park Je Chun and our interpreters Rachel and Rose Lee.
Recommended links:
Jeonju Sori Festival
Hanok Village
10 reasons to put Jeonju on your bucket list (Lonely Planet)
Author:
Angel Romero
Angel Romero y Ruiz has been writing about world music music for many years. He founded the websites worldmusiccentral.org and musicasdelmundo.com. Angel produced several TV specials for Metropolis (TVE) and co-produced "Musica NA", a music show for Televisión Española (TVE) in Spain that featured an eclectic mix of world music, fusion, electronica, new age and contemporary classical music. Angel also produced and remastered world music albums, compilations and boxed sets for Alula Records, Ellipsis Arts, Music of the World.